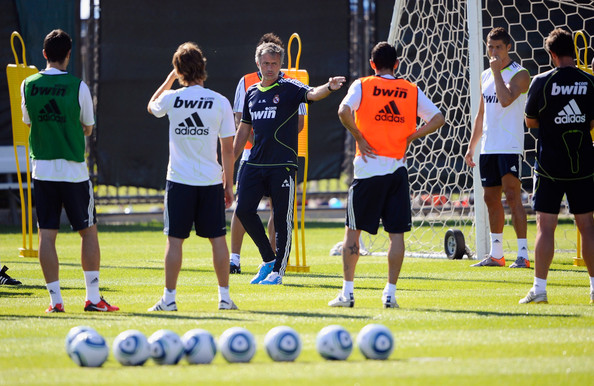 18 Apr

Tactical Periodisation in Gaelic Games – By Stephen Lonergan

By Stephen Lonergan MSc– S&C Coach, PE Teacher and Offaly Minor team coach & selector; Former Offaly Senior Footballer

Tactical Periodisation is a coaching method driven by tactical training. It is the brain child of Vitor Frade, a retired professor at the University of Porto and currently technical advisor to FC Porto. The coaching method was made most famous by Jose Mourinho. Other sports have examined the model and since adapted it. One recent advocate of the model is the English Rugby Head Coach Eddie Jones. In soccer particularly, many coaches use the tactical periodisation model or have adapted part of it more commonly now known as a Game Model. Coaches include Brendan Rodgers, Jupp Heynckes, Pep Guardiola, Andre Villas Boas and many more.

The original model was designed for professional soccer and the weekly plan is designed for professional soccer players who train 6 out of 7 days in most cases. This is the first stumbling block for the outright adoption of the plan to Gaelic Games. Tactical Periodisation is a very complex model and in an interview last year one of Frade's disciples Carlos Carvalhal talked about how this is 30 years of work by Frade and that it involves genetics and understanding of complexity theory. Carvahal spent three years under Frade to fully understand it. He believes that the theory behind is very complex but the practice is very simple and that coaches at all levels can find a way to utilise this methodology.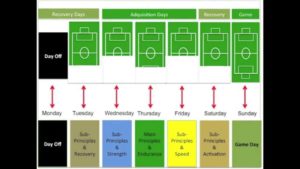 The method in its essence is focused on how the team wants to play on match day and every training session is adapted to this way of playing. Vitor Frade believes that training football in an isolated manner is not the most effective way, as football is unpredictable and chaotic. This needs to be integrated in to every session and you need to train the game through the four game moments – defence, attack, transition from defence to attack,  and transition from attack to defence.
Another key philosophy of this method is that the physical, technical and tactical components are all developed together and very little isolation particularly of the physical is undertaken. This allows for a greater resemblance and specificity of the game. This I know is a concept many of the top GAA coaches in the country are constantly exploring. There  has been a few nice pieces of research recently  published by particularly Shane Mangan & Shane Malone on looking at the physical & technical exertions of small sided games in football and hurling.
There are some club & county teams that have adopted a version of the tactical periodisation model and there are a few coaches who are proponents that the technical and tactical components outweigh the physical. Fergus Connolly – a Monaghan native who has worked with many top clubs in many sports around the world was always in close contact with Jim Gavin during his reign as Dublin Senior Football manager. He has outlined recently a version of this model adapted for the GAA and one that backboned Dublin to the 5 in a row. Connolly's template and morphocycle is a fascinating overview of how you would adopt it to Gaelic Games in its fullest version.
In short, how the week is periodised is all from the GAME at the weekend. Whether that is an in house game, a challenge or a competitive match. The Tuesday night is where you focus on 1v1's up to 8v8's and concentrate on developing the individual player or units, based on the performance of the individual & units on gameday in the four moments of the game. The session is based around intensity and small pitch areas. The Thursday night training is more focused around the defensive and attack units as well as the overall team, again in the game moments. This session is based around volume and the pitch sizes are larger. Gameday is Gameday where you hope the fruits of everything you have worked on during the week happens. This cycle is repeated throughout the season and through your constant honing of the game moments by developing the macro and micro principles of them you hope to develop tactically astute players, units and team along with the other pillars of performance. This is a very very brief overview of a model which requires coaches to delve into much more in order to get a true understanding of the approach.
Thanks, Stephen
Twitter @lonerganstephen
References
Tactical Periodisation – A practical application for the Game Model of the FC Bayern Munich of Jupp Heynckes
https://www.skysports.com/football/news/11095/11764172/jose-mourinho-vitor-frade-and-the-influence-of-tactical-periodisation
Tactical Periodisation – A Proven Succesful Training Model
https://fergusconnolly.thinkific.com/
Soccer – Developing a Know How by Carlos Carvahal
An investigation into the physical, physiological and technical demands of small sided games using varying pitch dimensions in Gaelic football Shane Mangan, Dr. Kieran Collins, Dr. Con Burns, Dr. Cian O'Neill
The influence of exercise to rest ratios on physical and physiological performance during hurling specific small-sided games – Shane Malone, Brian Hughes, Kieran Collins
Total Views: 2274 ,