2020 Division 1 League Review
Overview
Galway led the way at the postponement of the NFL with Kerry, Tyrone, Dublin, Donegal & Monaghan probably satisfied with their positions in the standings. Meath struggled to adapt to life in Division 1 and were certain to be relegated.  Mayo were yet to face their high flying neighbours and Tyrone who were going about their business efficiently if not spectacularly, so survival prospects were probably slim.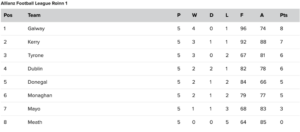 Another way of looking at performances over the league would be through an Expected Points Standings. This is a fairer reflection of what happened and more robust predictor of future performance than actual results and weighs up the quality of chances created and conceded by both teams in a game and assign the points we would have expected them to achieve in the game. From this you can predict probabilities of teams winning, losing or drawing games. The expected points standings for Division 1 looks like this.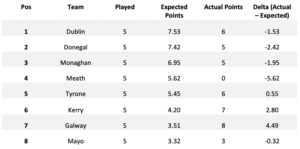 Differences in the 2 standings can be explained by luck and skill. Some teams outperform expectation through better than average shot efficiency and/or a slice of luck. Underperformers do so thanks to below average shooting and/or bad luck. Kerry and Galway flip from actual table toppers to relegation strugglers in expected points table – mostly because they are exceptional finishers. On the other hand, Dublin, Donegal, Monaghan and Meath rise up the expected points standings. The true reflection probably lies somewhere in between both tables – you are never as good/bad as people make out rather somewhere in between. One thing evident in both standings is Mayo have struggled.
Key Takeaways
The Padraic Joyce revolution is gathering pace and plaudits in Galway. They sit atop the table playing an attractive brand of attacking football. Galway's use of the foot pass to move the ball at pace is noticeable – 24% of all passes are foot passes comfortably above the league average of 18%. Monaghan under Banty are also swinging towards a direct foot passing game but haven't reaped the rewards in the table.


Galway's directness is clear, but the efficiency and accuracy of their finishing is contributing to their success. Is outperforming expectations to this incredible level sustainable? Meath & Tyrone on the other hand are suffering up front possibly not aided by a slow possession-based buildup.

The top 4 teams for me are clear in Dublin, Donegal, Kerry and Galway but Mayo, Meath, Tyrone and Monaghan definitely have potential to put strong championship runs together. Donegal are strongly mirroring the Dublin approach – control, patience and emphasizing shot quality are the keys to their success.

Power Rankings
Dublin
Remain the benchmark. Still picking up points despite being late to return to training with many star campaigners held in reserve. Game plan remains the same and quality of players mean they will be tough to topple. Patience, smart shot selection and efficiency remain the hallmarks of Dublin. 60% of Dublin's scores originate from their own Kickout or turnovers forced inside their own 45, whilst they have only been turned over inside their own 45 a total of 3 times.

Brian Fenton continues to solidify his POTY credentials and claim to be the best player in the land whilst Scully, McCarthy, Howard and Kilkenny know their roles inside out & perform them impeccably. Only Galway get close to the quality point attempts that Dublin do.

There are plenty of miles on clocks and if Stephen Cluxton fails to return opponents may think they see a chink in the armour. When forced to go outside his 45, Comerford struggles to keep the retention rate high. Wide and short right appears to be his preferred option.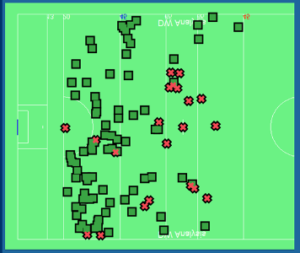 Donegal
Donegal have serious depth. They combine experienced heads who have reached the pinnacle once before, an excellent goalkeeper and plenty of up and coming talent. With an intelligent backroom team and a formidable game plan and style coming together they look like the best placed team to stop the 6 in a row. Their first 10-15 minutes vs Dublin were incredible, bossing the game and not letting the Dubs breathe. Looking at the metrics they appear to be performing solidly if not spectacularly – interestingly they are generating the most shots at goal – are we seeing a shift in mindset and an intention to go for the jugular?

As seen in the expected points table Donegal are proficient at creating enough chances and conceding few enough chances to regularly win games. Despite slightly outperforming expected points, they need to further improve their finishing to make the step up and compete at the elite level. Donegal convert possession into attacks the league average rate, but it is their expected points per attack that is remarkable. Donegal are a clear outlier in this regard.

Declan Bonner and Stephen Rochford need to nail the centre back position, Daire O'Baoill and Conor O'Donnell have had a few runs there without making it their own. Probably most impressively Donegal have managed all this without the likes of Stephen McMenamin, Odhran MacNiallais and Oisin Gallen, whilst Paddy McBrearty is yet to hit his stride.

Kerry
Last year's league and All Ireland finalists have continued their fine form. 7 points from 5 games is not to be sniffed at and David Moran hasn't made his seasonal return yet. Attacking wise they possess some of the best weapons in the game, Clifford, O'Brien, Geaney and O'Shea are an established well – oiled machine. For me James O'Donoghue adds a different dimension to their attack, he possesses sharp shooting and creativity in abundance and provides the intelligent quality ball the likes of Clifford thrive on. Kerry may take more difficult point attempts than their big rivals, but they compensate for this with outstanding efficiency.

Kerry's scores originate from a variety of areas and are not overly reliant on any one way of playing. On the other hand, they leak points from all angles too.

Question marks remain about the backline and the loss of Donie Buckley has done nothing to quell these. Kerry concede plenty of high-quality shots Peter Crowley's return will help but the big question for Kerry is can they hold the best teams to 14/15 points a game?

Galway
Galway are without shadow of a doubt a contender. Shane Walsh and Damien Comer offer pace, power & finishing up front. The full back line has been impressive in dealing with marquee forwards but also having an impact at the other end.  With their focus on direct attacking football they will be many people's favourite to stop Dublin, however, I would have concerns about the middle 3rd.  Liam Silke and John Daly have been tried at centre back, with a variety of Paul Conroy, Cein D'Arcy, Ronan Steede & Tom Flynn getting minutes in midfield. Plenty of depth but getting the balance right will be crucial – Conroy and Steede offer loads going forward but is their enough defensively between them to work as a combination. Galway's scoring has been phenomenal, and their directness and speed is enabling them to convert their attacks with incredible efficiency.

They have conceded plenty of turnovers but that is probably to be expected given the style they are playing.

Galway have managed to combine massive overperformance of expected points (half of which is down to Walsh) when attacking whilst forcing opponents to underperform their shooting expectations. Is this sustainable? Is it due to incredible attacking skill and defensive pressure or have opponents had off days with Galway enjoying hot streaks? Statistics tells us reversion to the mean is a common occurrence – if Galway revert to the mean at both ends of the field they will not be as successful.

While Galway will feel they left the game against Kerry behind them, both Monaghan and Donegal will feel they did enough to beat the Tribesmen. Galway's 2 postponed games were against Mayo, their fiercest rivals & league champions fighting for survival, and Dublin. Would 8 points from 7 games have taken the gloss off the league?
Tyrone
Cathal McShane was the main storyline for Tyrone throughout the league – initially as he toyed with the idea of a move to AFL, followed by his unfortunate injury. The best word I can think of to describe is enigma. They managed home wins in horrible conditions versus Dublin and Kerry whilst their hammering versus Galway wasn't as bad as the scoreline suggests. Darren McCurry and Niall Morgan were star league performers and with Mattie Donnelly and McShane having virtually no involvement Tyrone would feel they have plenty of room to progress. Mid table feels about right.

Tyrone are in the conversation, defensively solid but they need to figure out how they are going to create better chances and score more. Figuring out the best role for Peter Harte will be crucial, especially if McShane remains unavailable. Tyrone need to figure out how to consistently go from negative shot efficiency to plus territory in order to win more games. Currently they are losing on average 2.5 points per game to Dublin just through their finishing.

Monaghan
Banty has brought renewed hope to a Monaghan team, coming off the back of a poor 2019 that had lost some experienced campaigners through retirement. There's a clear plan to spread scores and not rely on Conor McManus as much. Rory Beggan is continuing to revolutionise the role of goalkeeper and has shown that any foul inside the opponent's half is within his range. Monaghan's kickouts are effective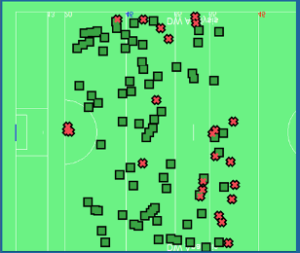 Defensively Monaghan have conceded 10 more points than would have been expected – driven mostly by the fact that no opponent's shot at goal has been missed! At the other end they have achieved an average shooting return. To improve their efficiency and scoring Monaghan may see the benefits from focusing on generating shots from play inside the shooting zone. Free taking has been good with Beggan and McManus combining to convert efficiently.
                  Shots from Frees                 
Shots from Play
Dessie Ward, Karl O'Connell, the Wylie and Hughes brothers, Niall Kearns and McManus are a strong backbone for a team that will be hoping to have an impact in Ulster and the All Ireland series. Encouraging the likes of Conor McCarthy & Jack McCarron to increase impact, adding depth and refining shot selection will be crucial to their hopes.

Mayo
Unquestionably Mayo have struggled – they beat fellow strugglers Meath and stole a point at the death from Donegal. It's not all doom and gloom – they still have players to return in the likes of Cillian O'Connor and Seamie O'Shea.

Regardless of goalkeeper, Mayo's kickout has been vulnerable with opponents managing to poach 16 points from it but possibly more troublesome is the lack of scores from successfully retained possessions. Mayo's 115 kickouts have resulted in a net return of 4 points whereas opponents 102 kickouts have resulted in a net return of 16.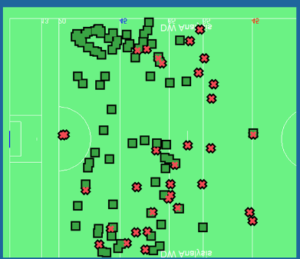 The backs production line continues with Padraig O'Hora and Oisin Mullin particularly impressive. With the likes of Harrison, Keegan, Paddy Durcan, Boyle, Vaughan and Higgins they are well stocked from 2-7.  Up front has been a mixed bag, Diarmuid O'Connor continues to lead with decent output and immense workrate, Kevin McLaughlin's class has told when he gets on the field and Ryan O'Donoghue has been industrious and combative. There still remains a lack of an out and out score creation – 6 goal chances in 5 games will not end with success.

Meath
Meath have struggled to adjust to the standard at Division 1, not helped by injuries. Meath have been slightly unlucky with results, they will feel hard done by in tight games against Mayo, Kerry and Galway. However, they were yet to face the Dubs.
The quartet of Donal Keogan, James McEntee, Cillian O'Sullivan and Brian Menton have coped well but the supporting cast, especially up front, could provide more. Meath's efficiency in front of goal is simply not of the required standard – not aided by a lack of penetration, they have been forced to take low % shots outside the shooting zone.
Point attempts from Play
At the other end they have been punished quite severely for turnovers inside their own 45 – 13 turnovers for 13 points.

Meath have managed to disrupt opponents' kickouts and take advantage of them quite effectively with it being their biggest source of scores (17 points). Success has been concentrated around the mid-range kickouts.