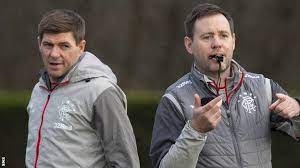 11 Oct

Talking Coaching with Michael Beale – by Ross Bennett

Read below a summary blog of the fascinating conversation I had with Glasgow Rangers FC First Team Coach Michael Beale on a recent episode of Deely Sport Science's 'The Locker Room Podcast'. You can view, listen to, or subscribe to the podcast here https://elite.deelysportscience.com/pod/

Michael's History

Michael initially spoke about his experiences and development from a player in the youth team at Charlton and how he lost himself when he didn't make it there and at various other clubs. He expressed his disappointment and how he nearly fell out of the game off the back of him not making it. He often talks about taking this mindsight into a positive mindset of 'you versus yourself', making yourself better and only looking sideways for inspiration.

He initially started out his coaching career setting up his own Futsal company locally. He then went in part time at Chelsea as well as working in many other part time roles (ladies / disability). He spent 10 years at Chelsea in the academy working with the development centres, pre-academy and age groups all up until U14. This is where I worked with Michael in his last 3 years of his time at Chelsea. We were very fortunate to work with groups who had players in the team like Mason Mount, Declan Rice, Tammy Abraham, Dominic Solanke, Fikayo Tomori and many more. He was very open to the fact that coaches at Chelsea win every week, as they have the best players. It was down to this and a lack of academy players at the time getting through to the 1st team, as to why he thought a move would be good to challenge himself as a coach.

Michael then moved to Liverpool to work with the U15/16, and within a couple of years was promoted to the U23 head coach at Liverpool. During his time at Liverpool he met a coach called Joserio Ceni (a very well respected Brazilian international GK) who watched Michael do a session with Liverpool U23's, and they spent an afternoon chatting about coaching. 4 weeks later he was offered a 1st team coaching role under Ceni at the famous Sao Paolo club in Brazil, something that Michael could not turn down. This was a very tough decision to leave a prestigious club like Liverpool that he felt so close to but he felt it was too good to pass up on.

He spoke about the difference in culture, coaching and speaking in Portuguese and relating to the South American players. He spoke about the huge positives of working with Sao Paolo, calling it football paradise for him.  There were also limitations and struggles in comparison to working with underage players e.g. the short-term mind-set at 1st team level around player progression. Despite really enjoying the experience he made the decision to leave there after 9 months. Later in the podcast he said he regretted leaving so early but with hindsight he sees that he made the correct decision for himself.

When he returned to the UK he went back to Liverpool FC Academy and worked with the Foundation Phase (ages 9-12) and went back to working with the purest ages re 1v1 domination, enjoyment and mastering the ball. It was then during his second stint at Liverpool when Steven Gerrard got the first team job at Glasgow Rangers.  Gerrard asked Michael to join him as 1st team coach, where he currently leads on all team sessions and is part of the unit coaches, looking after the front-line players.

Coaching Philosophy

The podcast then went on to talk about Michael's coaching philosophy overall. It is very evident that he places a lot of focus on creating relationships off the field and developing individual players on it in order to then make the team better. He also places great emphasis on how important it is to be a part of the players' journey. This is evident throughout his career, but more detail was given on his approach at both Liverpool U23's, and at Glasgow Rangers. Here each member of the coaching team and analysts look after a small group of players within a unit (backline, midfield, front-line) and act as coaching lieutenants on and off the pitch.

Within their unit they would provide unit work / clinics on the pitch, analysis sessions and spend more time off the pitch having multiple conversations. All these different modalities above are around the concept of fuelling the individual to better the team, something that is more known and done in academy set ups over recent years. The concept of you versus yourself within the training week, and how that will improve the team at the weekend. Michael often refers to this phrase of you versus yourself, for both players and staff in order to maximise the development of that individual.

Michael thinks these concepts and skills to develop the individual, especially the off-field development are far more important than any formation. That is merely an entry level to get you in the job. Michael talks about some key playing principles that can always remain, searching for width and depth can create solutions for any opposition, whether they press high or drop off. He loves players with 'action man' hips, who can carry the ball, dominate 1v1, twist and turn when needed. Michael speaks about Johan Cruyff and Ajax being his 'lighthouse' in regards to the style of play he tries to enforce, dominating the ball and being a possession-based team.

Michael and myself then speak about the importance of remembering the strengths of a player, and why they got in the door in the first place, as well as reinforcing a positive approach. This is important to remember as players go through the development stages, and ensuring coaches focus on their strengths and believe the reasons why they could make it, not so much the reasons why not. Therefore, in training we must keep practicing their strengths, making them super strengths, whilst adding layers to that particular quality.

It is evident that players who make it, and he referred to international standard players, that their strength at 10 is still their strength at the top end of their journey. An example of Mason Mount sprang to my mind around his energy, affecting the backline and running in-behind. Michael also speaks about this concept of unconscious bias, and that we shouldn't have a fixed mindset on players, and that players can grow, develop and improve over time. This mainly came from guidance under the academy manager Alex Inglethorpe who hired Michael twice at Liverpool FC.

I then probed Michael about how he ensures every player gets their individual outcomes within the training week.  Again he stressed this idea of him needing other staff to help him with the coaching lieutenant concept that started at Liverpool U23 when he had players on loan, training with the 1st team, and he had to get to grips with their individual development. He spoke about having meals with players in these sub groups, and having conversations with players when walking out to train. This is very much relationship based and allowing the coach to get to know the player as a person too. I think this is something that is neglected, and the traditional on-field stuff is the go to when you think of 'coaching. It's that concept of you vs yourself again, and can be summarised into 3 questions:

Who are you?

Where are you now?

Who do you want to be?

This brings about your self-awareness, and then it's about your self-management and what are you going to do about the things you identify. The last things are about awareness of others, having an identity and connection and ensuring your programme is aided by others within the working team, and lastly the relationship management, the social side of teammates, staff etc…

This provides clarity on the concept of players taking ownership, and how you as a coach can facilitate that process and give the player the 'perfect' training week if one ever exists. This is a model that was created at Liverpool and has been taken into his 1st team roles at Sao Paolo and now at Glasgow Rangers. He reinforces that he feels the best coaching is done off the pitch and is about feelings and relationships driven by informal conversations. He urges that this should be the 'norm' across all academy players in the country, and coaching set ups in 1st team roles.

I then ask Michael around the coaching aspect on the grass, and the balance between stepping in and allowing the ball to flow. Ball rolling was a concept that is important to Michael and allowing the game to flow, especially due to the social shift of kids not doing as much outside of structured coaching. He spoke about the importance of collaborating with 1st team players and ensuring their opinions and knowledge of the game are understood. He spoke about testing the players' technique under fatigue and allowing some of the games to go on longer than the '4 minute block' advised now within the emergence of sport science. His ultimate moto is to ensure that you as a coach, would want to play in all these sessions, irrespective of the theme. He provided four aspects to think about throughout their development:

The Ball and The Boy, The boy in the game, The boy and the coaches, The boy and the club

He speaks about the flow of the sessions, and as a coach you know when you haven't got the flow right. If a kid runs from the car with lots of energy, and after 10 minutes he doesn't have the same enthusiasm, that's the coaches' fault, 100%. He spoke about some of the stuff both Michael and myself used to do as arrival activities at Chelsea, the skill and technique stage that you completed to get into the game, then the infamous 2v2 box game he mentions in previous podcasts that he still uses today with any age group. Trying to keep that passion for the 90 mins is essential for the players and aim of the coach.

Michael then spoke about a typical session and putting all these concepts into practice. He spoke in detail about the session that was just done at the club that morning. The session will always start with technique work, which he calls the hard-drive part of the session, key technical aspects they value as important principles in the way they play, passing, receiving, twisting / turning, relationships / combinations but all unopposed. Then they went into some game-based scenarios in what they thought as relevant to the game at the weekend, so they did a 3v2 practice focusing on defending from wide areas. That then led into a 9v9, with no constraints (other than the off-side) but a good size to open their legs. He explains that he dislikes constraints such as two touch because that influences decisions and quite often can lead to a wrong decision on passing when instead you need to travel. Then the team went to do some unit work with their respective unit coaches and was geared around stuff to prepare them in the weekend's game, he gave an example of the back line dealing with direct balls.

He summarised every training session with the below thought processes prior to planning:
Where are we in the week? What's to come? How can we influence things?
Player qualities to play in our style, Team Qualities (Tactical, Grit, Fitness), The What if's (go down to 10 men, opposition team go direct or play 2 up top)
Michael then spoke about this concept of 'microwave warm ups', where the team do 2-3 min physical warm ups and then branch off with their 'unit coaches' and do specific technical work as part of their warm up. He gave the example of defenders doing foot-patterns, midfielders doing receiving skills, and forwards looking at forward movements. Ensuring the warm up is specific and working on their individual programmes straight away in training, as all players won't do the same in their jobs in training / games, so the warm up is reflected in this.
This is a concept that we do at QPR and did it for the 4 years we worked at London GAA, with having more technical based warm ups with no time wasted. This does not exclude any physical based work that has merit in the programme (re max speed work). But you may place this pocket of work at slightly different places in the session to the traditional S&C warm up for the first 15 minutes.
Management Style
In the penultimate part of the podcast Michael spoke about different management skills he had learnt from different personnel. He spoke about the Scottish legend Gary McAlister, who has so much presence and genuine warmth when dealing with any staff / player. He said this reflects in the positivity and infectiousness within the club, and this is something that is important in 1st team football. This is something that can't be said from yourself, it must be spoken about from other people. Michael then speaks about the importance of being creative, and something he has put it to himself, to always be creative, a risk taker, and honest in everything you do. He feels that if you're creative in every day situations, it will aid him in those big decision-making moments, a key tactical sub or game changing moment.
He speaks about the important of being authentic and the players having to run with the plan and believing in it. I then speak about the consistency and having the consistent manner regardless of win, lose and draw. It's important you have your process and believe in it, and don't go away from that if a result goes against you. He then speaks about Steven Gerrard being outstanding at managing the big moments both positive and negative. He says that he has lived through lots of moments in his career and this equips him in these moments and he can summarise it well in his dealings with the players and the coaching team. However, it speaks about being strong with a standard and addressing behaviours that needs addressing, and this doesn't mean questioning effort, as this often isn't the case in players.
Myself and Michael then spoke about the trust that Steven Gerrard gives his staff and Michael to do his job. Michael speaks about how the setup is now a management team due to diversity in the team, so many demands and games on squads etc. If a management team enables staff to take responsibility it brings around more investment, but there's more pressure to deliver. He speaks about having staff that work with the players, trying to improve them every day, and can straighten them up if needed. He doesn't want staff that are happy to be working with the pros because of who they are. He spoke about how he doesn't know if he can take another assistant job after working with Steven, as he won't get the same level of trust and autonomy to do the job. Being a good coach is one thing, and being a good manager is a completely different thing and working out what type of manager you want to be and how to supplement your team.
The last part of podcast saw 6 quickfire questions being asked to Michael where he gave some great insights in a very short concise answer. I will let you listen to the podcast to see these questions!
You can view, listen to, or subscribe to the podcast here https://elite.deelysportscience.com/pod/
Total Views: 998 ,