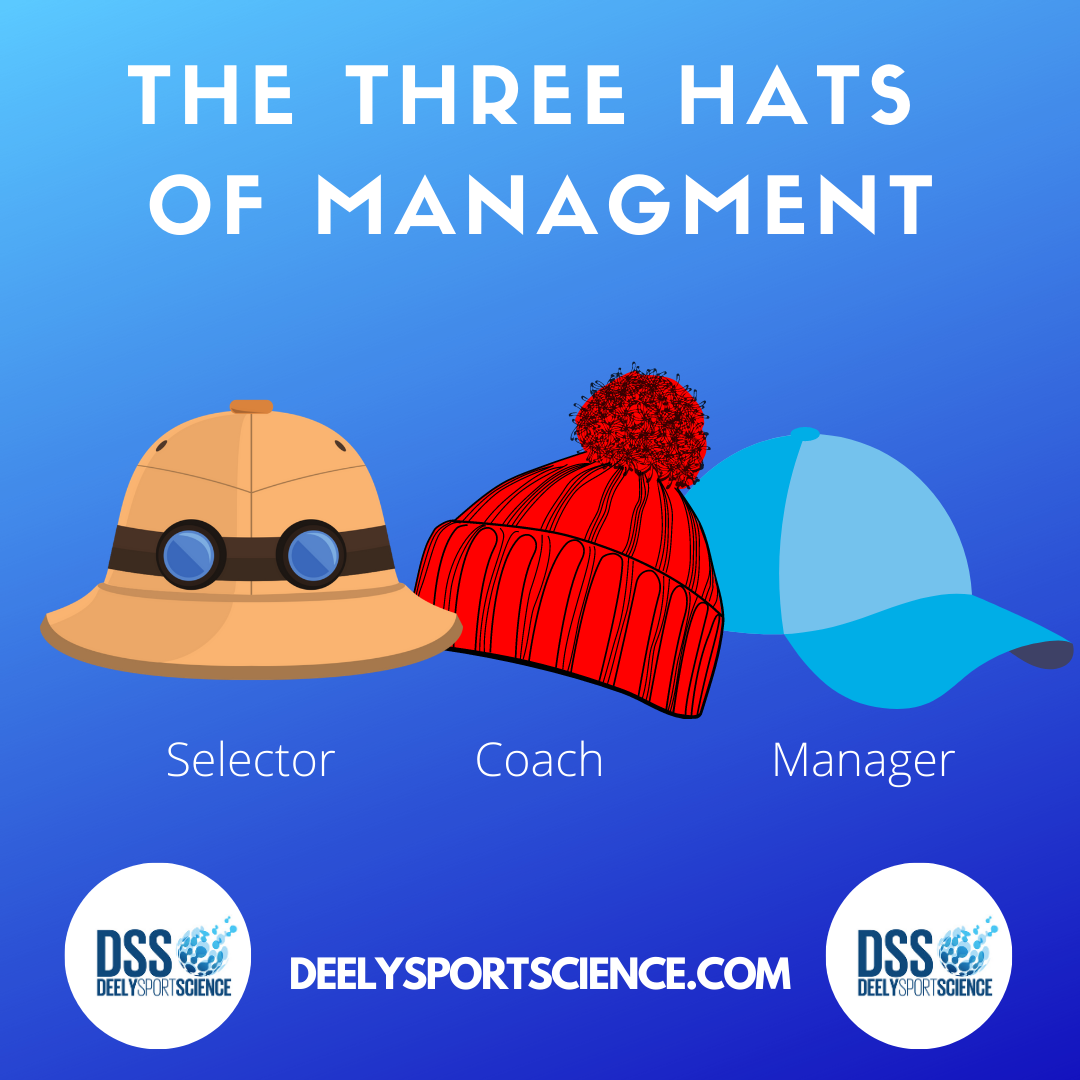 29 Apr

The Three Hats of Management – by Steven Poacher

On a recent visit, just pre-Christmas, with some students from our school to Stat Sports head office in my home town of Newry County Down I noticed a quote on the wall of the office, it was from Sir Alex Ferguson and it read, "Sports Science, without question is the biggest and most important change in my lifetime." Stories from Ferguson's time at United tell of him and Mike Phelan (His no2 at the time) visiting the British Olympic Cycling teams training camp to see what they were doing in their own high performance set up and was there anything he could bring back to an already successful Manchester United at the time, always looking that extra edge.

Sir Alex for me remains the greatest manager of all time, and I think I say that not just because of the phenomenal success he had but his ability to adapt and change with the ever changing landscape of football and management. His man management seemed to be incomparable to anyone, his ability to motivate and build self-esteem in his individual players and collective squad was unparalleled and the culture and atmosphere he created around the club where everyone was valued from the star striker to the canteen staff.

Gaelic Football has gone the exact same way and Ferguson's quote relating to Sports Science could never be truer in our own games. Is it for the better? I certainly think so, players are generally better conditioned, they train smarter and recover better and a lot is down to the advances in knowledge and expertise now involved not just at county level but now at club level too. We have many club managers in the DSS group, in fact a lot more operate at club level in comparison to county level and that's only natural considering club activities make up 97% of our games.

It's important to note though that despite all these changes the role of the club manager, the man appointed to take charge of a club's senior team will still be expected to plan, organise, lead and control all aspects relating to the senior team and possibly reserve team. This may include; training sessions, selection of players, setting up a style or system of play and organisation of the team and most importantly duty of care to the individuals within that team. Obviously in a county set-up it's probably much easier and responsibility is evenly spread with the manager more or less the figure head.

Andy Roxburgh the former Scottish international soccer team manager was UEFA technical director for 18years and former sporting director at New York red bulls, at UEFA his job was to monitor the work of the coaching professions most distinguished exponents. Roxburgh talks about the "three hats" of management, Selector, Coach and Manager, by selector he means being able to pick and balance the team. By Coach he means tailoring and taking training, coaching the team by organising and structuring a style of play and by Manager he means being able to communicate, handle players and maintain discipline and order within the group and also an ability to delegate and share responsibility among the staff at the club.

Not many you may think could do all three effectively but Roxburgh used Arsene Wenger, Alex Ferguson, Jose Mourinho, Jurgen Klopp, Pep Guardiola as prime examples of relatively recent managers who all wear the three hats! Within our own Gaelic games, it is common knowledge that recently the likes of Jim McGuinness had been very hands on at Donegal training and didn't need the acquisition of a large number of training gurus. The great Mick O Dwyer only twice in his 35 years managing inter county teams did he employ a physical trainer, instead he got into the mix at training because he felt he could see a lot more of what was happening at ground level and felt closer to the players, he firmly believed you could grasp the atmosphere of the group a lot better by being in the mix rather than taking a stand back and watch approach.

There is also this myth that exists that to be a good manager/coach you have to have played and been successful at the highest level, which is complete and utter nonsense. The ability to deliver a pass effectively in Gaelic football and the ability to deliver a message well, are completely different things! I personally didn't have an illustrious playing career, I didn't begin my coaching career with a big reputation, a big name or a box of medals, I had to work extremely hard and think outside the box which I feel has helped me enormously to become the Coach I am today, being a PE teacher also helps me a lot, because you are managing different personalities all the time, your man management skills are constantly tested and you have to be an excellent motivator and innovator to survive in modern day teaching and coaching!

Finally, some positive qualities which may help guide a manager/coach on the right direction
Love of the game:
Live and breath the game, never stop learning, watch the top teams train and play, study the game and other games, engross yourself in the game and have a really good understanding of the rules, skills and strategies of the game.
Personal qualities:
Good motivator, enthusiast, being an industrious person who communicates effectively will all their players and provides regular praise.
An Effective Man Manager:
Probably the key management/coaching skill your ability to manage all the different personalities and ego's that exist in the changing rooms. Knowing when to put an arm round someone or give a dressing down, all players respond differently.
Be Yourself:
The great John Wooden use to say, "Time spent comparing yourself to others is time spent wasted" don't try and be someone you aren't, everyone has their own unique personality and qualities they bring to teams. Believe and trust in your own.
Steven Poacher
DSS Football Coach
Total Views: 1231 ,