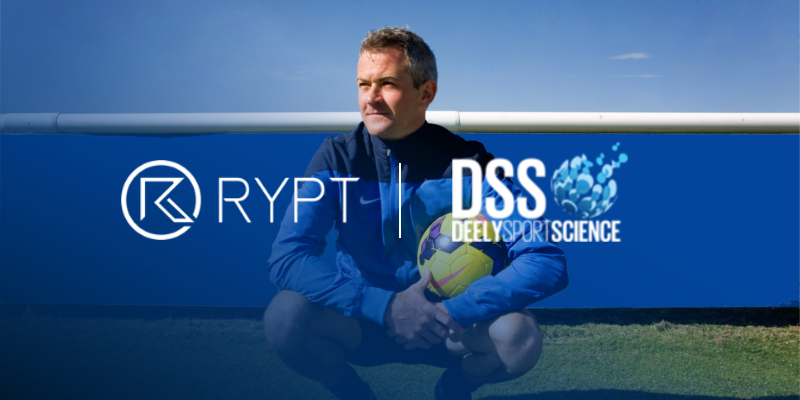 12 Apr

Deely Sport Science, powered by RYPT

By Ciaran Deely – CEO of Deely Sport Science Ltd and Cormac O'Beirne – Founder of RYPT

Today we're delighted to announce our latest strategic partnership with the performance coaching platform RYPT. RYPT is an up-and-coming Irish company that has developed an innovative platform that benefits both coach and athlete by simplifying the creation and delivery of individualized workout programs and taking the pain out of data collection to help coaches optimize their athlete's performance.

It's a company I have been building a relationship with since I began to convert from using excel for all my own programming to using their platform with Deely Sport Science athletes – something that will be rolled out soon to streamline my service and allow me to offer more value to the athletes I'm working with remotely.

We found there was a lot of alignment between our businesses, with both companies championing a progressive approach to performance monitoring and analysis and sharing similar views on how its application can benefit athletes of all levels, from the casual/amateur to the elite performer. Coupled with a desire to work at the cutting edge of innovation in sports science.

We felt a strategic partnership could not only benefit ourselves but also our customers and members. So, we're delighted that they have come on board so that we can work together to make that a reality.

This is another big step for our business – it will help us reach a greater number of people and provide an improved service to athletes and teams around the globe with the support of an innovative performance coaching platform which is already trusted by high-performance organisations like Swim Ireland and Kerry GAA, along with countless other coaches around the world. Kerry GAA players such as David Clifford and Sean O Shea are clearly showing the benefit of using this innovative performance platform, and I am delighted to be now opening this opportunity up for all club and county players and coaches to utilise the same system as these once-in-a-generation players!
RYPT makes programming for your athletes and players easy
RYPT helps you create & deliver personalised programmes straight to your athlete's smartphones
RYPT monitors your athlete's workouts, well-being, and training load
RYPT allows you to prevent injury and maximises your players' performance
As strategic partners we are offering you a 2-month free trial of the platform – which I can personally vouch for, and indeed for their excellent customer care having experienced it firsthand. I am truly delighted they have aligned their work with ours. To avail of this offer just sign-up via this link and you'll be sent your unique coupon code.
This is another big step forward for our company, it aligns us once again with another sport science company working at the cutting edge of sport science and coaching in Ireland, the UK and further afield. I have always said this is a member-led community of coaches we have set up and especially in these challenging times, I am delighted we can offer you this service that can make remote training and monitoring of your players even easier and more effective. We are:
Deely Sport Science, powered by RYPT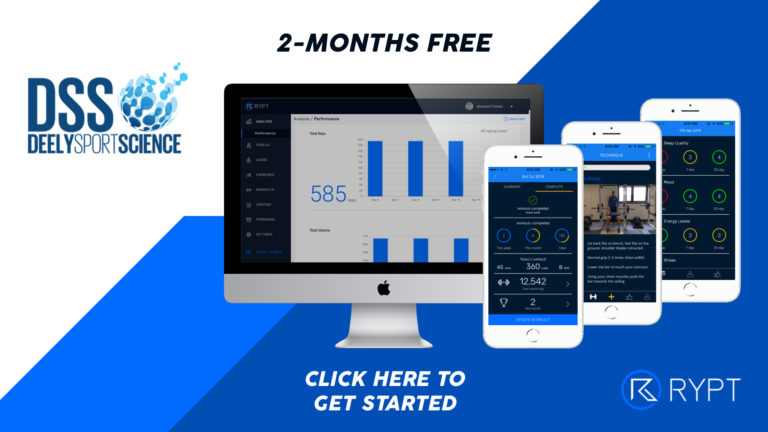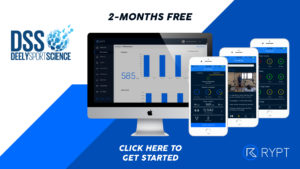 About RYPT
At RYPT, we are dedicated to making the delivery of individualized fitness programs, and the gathering of exercise and well-being data frictionless, so that coaches have the insights they need to optimize the performance of everyone.
Our platform for performance coaches and organisations provides them with a digital channel to connect with their clients / athletes. With bespoke tools to build and deliver individualized fitness programs and monitor their client's / athlete's performance, progress, and well-being. Giving coaches the insights, they need to make data-led decisions to optimize performance and improve results.
Through the digitization of processes and centralization of client / athlete data, RYPT helps save time, while providing data-driven insights into an individual's response to their training and well-being. This enables coaches to optimize the individual's training program and balance their training load / recovery – preventing burnout and injury and improving performance.
Total Views: 986 ,