The Championship that Never Was
At the start of June DSS Simulated the All Ireland Hurling and Football Championships as set out in the GAA's Master Fixture Plan pre Covid 19 using a model built on historical data. The Master Fixture Plan was to include the inaugural Tailteann Cup in football. In order to be completely realistic we simulated the final rounds of the league with Cork and Down promoted from Division 3 while Clare and Fermanagh were relegated from Division 2 and faced the prospect of Tailteann Cup action if they didn't reach their respective provincial finals. I am going to delve further into the model rankings and some of the talking points generated out of the simulation. The full article can be accessed here
Model Summary
Data – All league results and Championship results from 2010
Process:
Calculate goal and point attack and defence ratings for each team and a home advantage factor.
Simulate the probability of scoring points and goals using Model with expectations based on attack rating, opponent's defence rating & home advantage if applicable.
Time decay used to weight ratings so that most recent games and form are most important.
Update ratings after each round of games.
At suspension of league here were the football rankings of best attacks and defences In terms of scoring/preventing goals and points. There are coefficients associated with these but have removed to avoid confusion.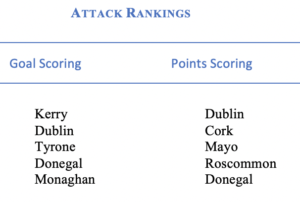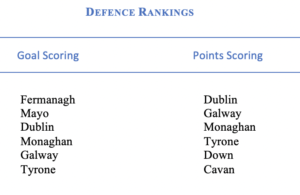 So the northern counties feature heavily in the top defensive rankings with Dublin a constant presence at the top of all rankings. Kerry are strong goal scorers but their point scoring rate could improve to be strong challengers to the Dubs.
At suspension of league here were the hurling rankings of best attacks and defences In terms of scoring/preventing goals and points. There are coefficients associated with these but have removed to avoid confusion.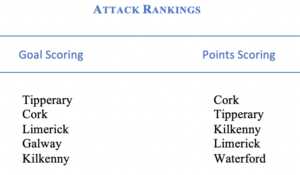 Tipperary and Cork sit atop the offensive rankings with Limerick, Galway, Kilkenny, Clare and Wexford more defensively tight.
Talking Points
Cork  v Limerick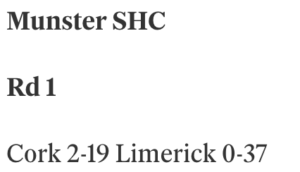 Limerick on the back of winning the NHL arrive to Pairc Ui Chaoimh to face the rebels who struggled in league winning 2 of 6 games including 1 versus Westmeath. It is important to note that Limerick are strong points scorers whilst Cork are one of the leakiest defences in the Liam McCarthy – this leads to an expectation of Limerick clocking up a considerable score. Cork conceded 0-29 to Limerick at the same venue in February with 0-27 conceded in the same clash in 2018 Munster Round Robin, add to this the 2018 extra time semi final thriller where 3-32 was yielded to Limerick and it is fair to say that John Kiely's men would have felt they could put up an impressive score and send a message to their rivals. Whilst unlikely 0-37 is most definitely not impossible.
Tailteann Tightrope
The fate of the counties on the bubble between Division 3 and 2 is intriguing. Cork  – promoted from Division 3 and appeared in last years Super 8s – faced Kerry first thing in Munster, if they had not got promoted they would have faced Tailteann Cup. Despite achieving promotion and running Kerry to 2 points Cork end up drawing Tyrone  away in the first Qualifier round and their season of promise comes to an abrupt conclusion.  Clare on the other hand were relegated after Fermanagh came to Cusack Park and turned them over despite 25% win probability. Clare then failed to make the Munster final and ended up knocked out of the Tailteann Cup before the end of June. Fermanagh's poor league form forces them into Tailteann Cup but they manage to end the season as inaugural winners of Tailteann Cup.
Group of Death
The Super 8s structure means the 2020 Munster and Leinster champions would end up in the same group. Add to this that the path of the Connacht and Ulster runners up lead to this group means the Group of Death was inevitable. Donegal and Mayo joined Kerry and Dublin in a group that contained the 4 best teams of the last decade.
The Big 6/7
Football's big 6 solidify their status and it is clear that there exists a leading 6 of Dublin, Kerry, Donegal, Galway, Monaghan and Tyrone. Mayo's levels have dropped off and are clinging onto the leading pack's coattails. The poor performance of Kildare in the Super 8s mirrors that of Cork and Roscommon in years gone by. There is now an established top 6/7  with another 6/7 chasing them trying to make the breakthrough but unable to maintain the required consistency. Meath, Roscommon, Cavan, Kildare, Armagh and Cork are the second tier with valid shot at reaching the Super 8s but their potential impact here is limited.
Big Upsets
Hurling
Both Clare and Waterford went away to hurlings Kingpins on day 2 of the round robin and left with narrow victories, showcasing the competitiveness of Munster Hurling Championship. Waterford were given a 20% chance of winning against Limerick unbeaten year to date whilst Clare were 30% chance against the All Ireland Champions.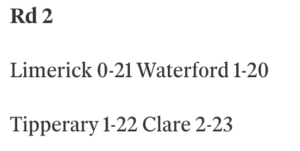 Waterford ended Davy Fitz's shot at another All Ireland winning by the narrowest of margins despite the model giving them a 33% chance of doing so.

Football
Early doors Derry's shock hammering of Armagh at home had a probability of 23% according to the model expectancy and Wexford's upset of Meath rated a 13% chance cause the most surprise. It's a false dawn for the minnows as they are brought down to earth and end up in Tailteann Cup whilst the wounded Armagh and Meath recover to reach the second round of Qualifiers.